The success formula for a stress free, fast renovation
A renovation project often involves many issues. Issues such as: how long does my shop or office have to close its doors? And what about the inconvenience to my staff and customers? How many sales will we miss out on and how can I be certain that the agreements made will also be honoured? These are all issues that could cause a major headache.
Our reply to all your questions? The Stamhuis Total Concept: a unique building method which guarantees high-quality, streamlined work performance and which ensures a stress free experience for the customer.
Stamhuis Total Concept
Watch
Close
Unique advantage
When we talk about building and renovating, Stamhuis has a reputation to live up to. We know exactly what is expected from us and we can call in and manage our reputable and reliable partners on every type of project. Your unique advantage is that we have all essential building disciplines and expertise in-house. With a tight-knit team of experts who work well together, we ensure that the work is performed transparently and efficiently.
Experienced experts
We use a process-based approach for each project where we leave nothing to chance. After an introductory meeting, we will visit your construction site. At the site, we will familiarise ourselves properly with the existing situation and layout. Next, our team of experienced experts will provide extensive advice about the feasibility and execution of your renovation, refurbishment or newbuild.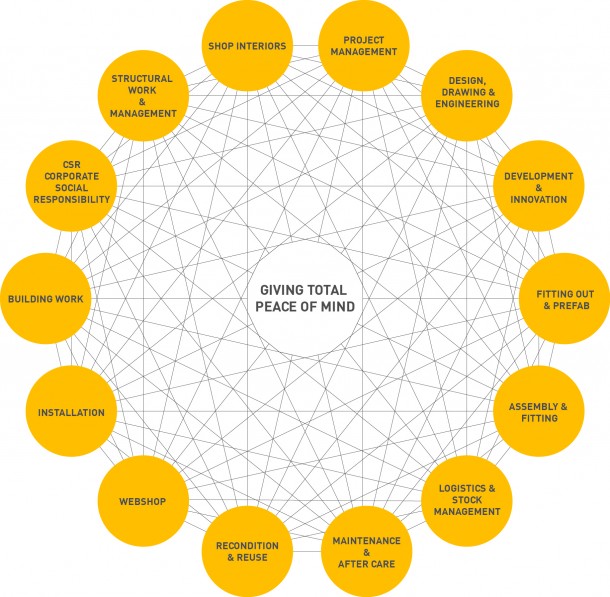 Unique building speed
The speed with which Stamhuis realises projects can easily be regarded a unique selling point. We plan every project down to the last detail and all projects are implemented with excellent logistics. We can basically customise every item for you by intensively using prefabrication and pre-assembly and, next, install it extremely quickly and easily. For instance, we can fully renovate a retail unit measuring 4500m² in only five working days. That is what we call speed!
Expertise
We have been deploying our expertise from day one for small and large customers including various nationally and internationally operating retail chains. In addition, we have also built up an excellent reputation in other fields. Therefore, whether it concerns a new supermarket or a new theatre, swimming pool or healthcare centre: we are at home everywhere and will exceed your highest expectations!